It is through professionalism, dedication, integrity and training that the members of the Livingston Fire Department work to safeguard the lives and property and enhance the quality of life of the residents and visitors of the Township of Livingston. This is accomplished through the delivery of emergency responses, fire safety education and training, fire prevention enforcement, and through public relations and personal contacts with our residents. Our services are delivered through a dedicated family of members committed to exceeding the expectations of those we serve.
A Message from Fire Chief Christopher C. Mullin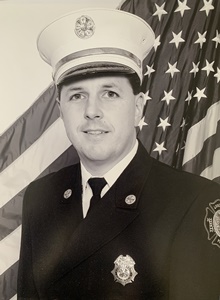 The Livingston Fire Department would like to welcome you to our website. The community of Livingston has continued to grow over the last decade and a half and so do our responsibilities to the Township of Livingston. Every day brings new demands and with each passing day we continue to exceed expectations
The fire department and its 64 volunteers are generally unknown to the everyday person, but for those who call upon us we are never forgotten. Day or night, rain or shine, we are always on call, 24 hours a day, seven days a week, 365 days a year providing emergency services to the residents and visitors of Livingston, NJ. Please feel free to explore our website and learn more about your Livingston Fire Department.
This page is managed and maintained by the Volunteer fire department and their members. Within this site for simplicity we have provided links to Fire Prevention and Contact pages that utilize the Township of Livingston's website to ensure you get the most up to date information available. Those links will navigate you away from this website.